Ulster Aviation Society
2pm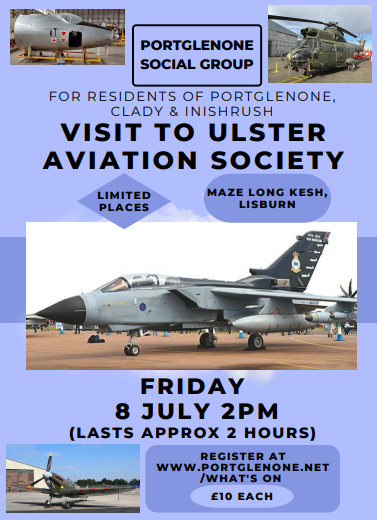 The Social Group are planning their next adventure. This is for the residents of Portglenone, Clady and Inishrush. We are going to visit The Ulster Aviation Society.
Date: 08/07/2022
Time: 12:30pm - 5:30pm
Important Information:
Please meet at Portglenone Community Centre at 12.30pm for transportation leaving at 12.45pm sharp. We will arrive at the Ulster Aviation Society for 1.50pm, ready for our 2pm slot. Bus will be collecting everyone at the Ulster Aviation Society between 4.15pm and 4.30pm for the one hour return journey home. Hoping to arrive back at The Community Centre at 5:30pm (depending on traffic).
Extra Information:
The venue can be cold, we strongly advise you to bring a warm coat.
To give you a flavour of what to expect please see the video and fill out the registration form below

12 places left.